Our defined methodology provides consistent performance
Executing one-off SEO tactics without an overarching plan is a recipe for frustration and stagnated organic traffic. You need a systematic approach to optimizing your website for the complexities of search engines' algorithms.
Methodology overview
To begin, we will work with you to understand the goals you have for your website and create sophisticated tracking that will get you the data you need.
Next, we'll create a reporting dashboard that distills that data into the main metrics you should focus on to understand the true value of your website.
From there we'll analyze growth opportunities and make recommendations for changes to your website, as well as other places on the web, to get more traffic.
Finally, we'll monitor our efforts with the tools we have put in place and continue to make suggestions that will have a positive impact.
Analytics and Reporting
The only way to know if SEO is working is to properly track conversions on the website. We'll make any necessary changes to the current analytics setup so we have good data to work with, and set up a dashboard that uses the data to highlight your key performance indicators.
Google Analytics Audit
Most Google Analytics accounts are not set up well enough to properly convey the value the website is driving for the business. We need to audit the account settings and goals and fix anything that is not in line with best practices.
Measurement Plan
We will meet with you to learn more about your business and discuss your current website initiatives. From there, we'll create a document that states how we will track website goals. The measurement plan will detail how we will track users' activity on the site, what we will consider leads, and the technology we will use to implement it all.
Reporting Dashboard
After the measurement plan has been implemented, it is finally time to visualize it with a dashboard. There is way too much information in Google Analytics, and you only want to focus on what really matters to your business. We'll create a dashboard in Google Data Studio that reflects the metrics you need to focus on to understand the value of your website and which marketing channels are driving results. From there we will start making evidenced-based recommendations on where to invest SEO effort.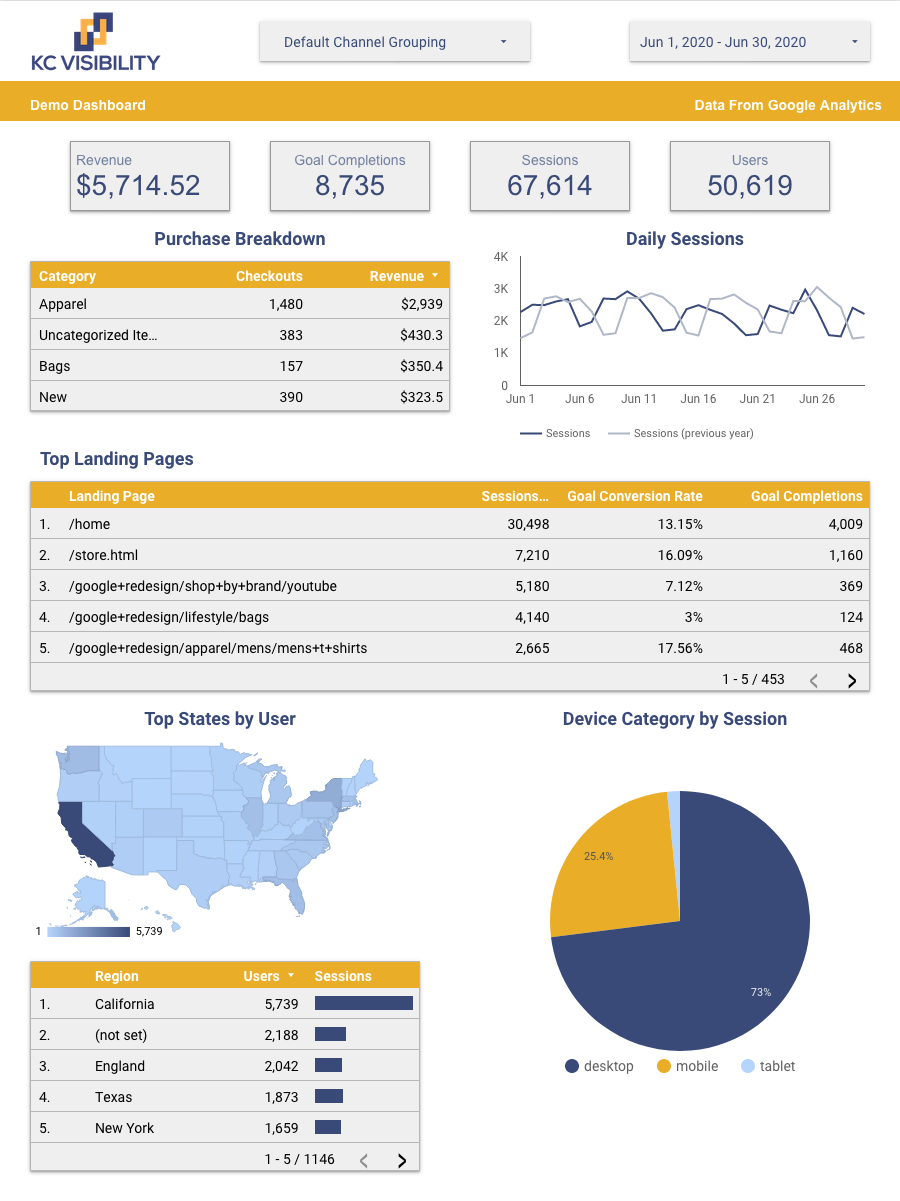 ---
Search Quality Audit
In order to make recommendations on what should change, we first need to understand the current state of the site and what has been done in the past. We aggregate data from different SEO tools so we can make decisions about what to do with each page of your site.
This will allow us to prioritize important pages and find out where we can get the best results with the least amount of effort, which ensures we get the results you want as quickly as possible.
---
Keyword Research
You need to know what people are searching for before you can create a plan for getting traffic from those searches. We'll grab all the keywords the site currently ranks for, as well as competitors' keyword rankings, then filter out the ones that don't apply. From this filtered list a better idea of the opportunity available in organic search starts to appear, and keywords can be mapped to search intent. We will then prioritize this list of keywords to target and assign the right ones to specific pages.
---
On-Page SEO Recommendations
The pages which rank highest in search results do so because they provide the best answers to searchers' questions. The most effective content-focused way to make your pages perform better is to make sure they answer the questions your potential customers are asking.
With our keyword research in hand, we'll figure out the best way to target the chosen keywords by analyzing the current content of the pages on your website. We'll make specific recommendations for changes to page content and meta information to ensure each page is targeting our chosen keywords appropriately and that the right content is in place.
---
Off-Page SEO Recommendations
Search engines look at your overall presence on the web to determine authority and whether or not your content deserves to rank. We'll help you understand where to focus your effort and what needs to be updated in order to improve your reputation on the web.
Link Building
The more links your site has from other trusted websites in your industry (backlinks), the more search engines will trust your site and the easier it is to rank in search results. That's why link building is the most important focus of off-page SEO.
Most link building campaigns get horrible results because they are focused on the wrong metrics: link quantity and Domain Authority. A bunch of bad links add up to a bunch of wasted time, and you'd be surprised by the number of high DA sites with zero organic traffic. We only build links from sites that get consistent organic traffic. If a site is getting traffic from search engines, that means search engines trust it, and links from that site pass that trust along with them.
Local Search
When delivering localized search results, search engines put special emphasis on the information people need in order to do business at a physical location. This is why you need to have business information available on the web for each of your locations, so search engines can find it and deliver it.
We will work to help you claim and optimize a Google My Business profile, as well as distribute your business information to local listing websites such as Yelp, White Pages, and Infogroup.
Work With Us
We deliver SEO results for your business
The bottom line is we care about results, because we are only successful when you are successful. We insist our clients have high expectations of us, and we work to exceed them. If you are ready to get more results from your SEO investment, we'd love to have the opportunity to deliver for you.
Schedule a 20-minute quick assessment with us to start the process.